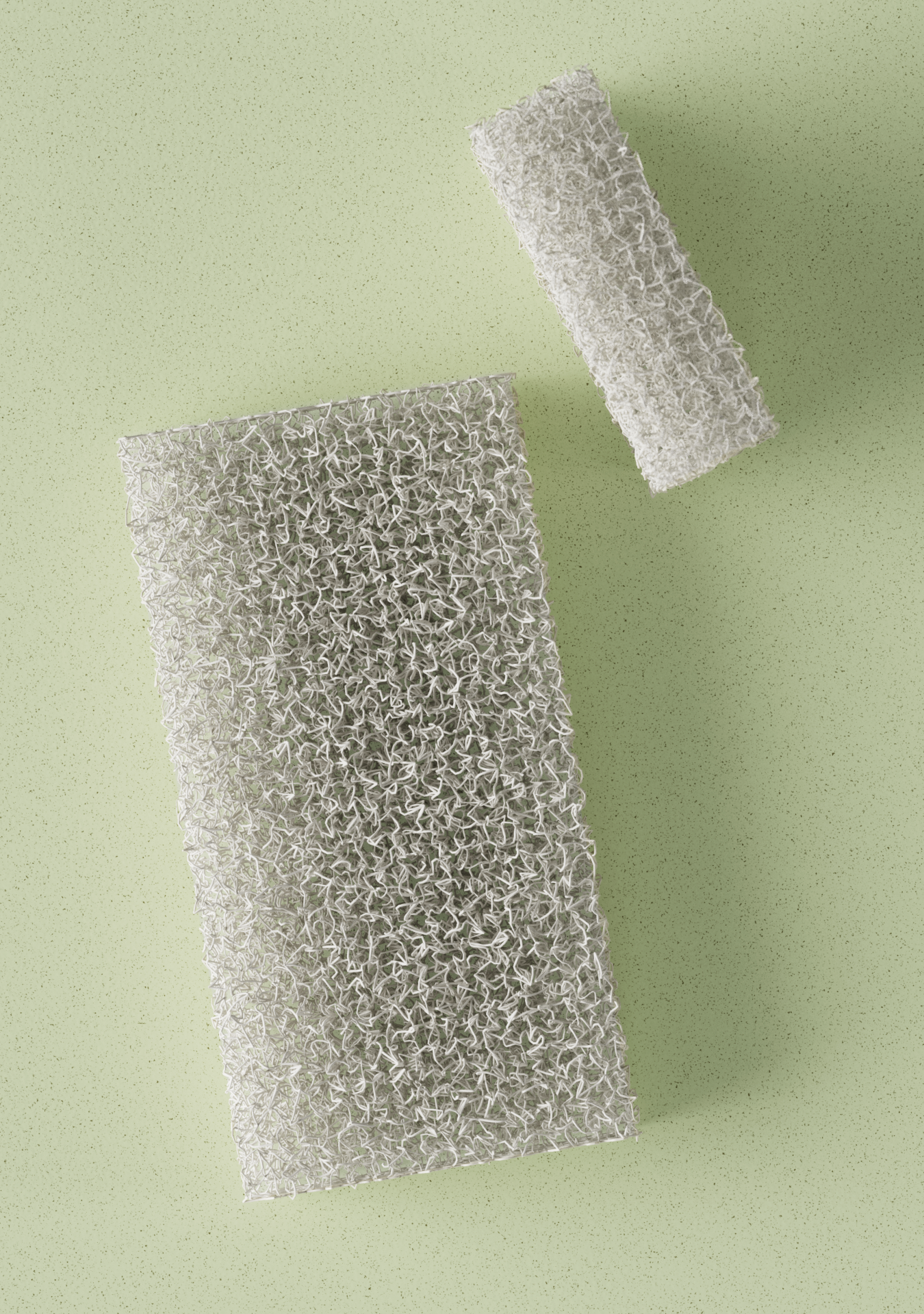 Literally featuring blown up aesthetics on the other hand is the aluminium foam by Cymat Technologies, that's produced by blowing air into molten aluminium. Appearing like it's frozen in time, the plates are made of up to 100% recycled material and are completely recyclable after their lifespan. Being popular in architectural applications, this material and every other mentioned in this article, is available as a digital SBSAR file.
Looking like an inverted twin of the aluminium foam are the Designpearls by Altfield. Nearly every physical and every digital carrier material can be covered with this glass bead layer. Combining different bead sizes leads to mesmerizing results in both worlds. The end product's colour depends strongly on the carrier material, which opens up a world of possibilities.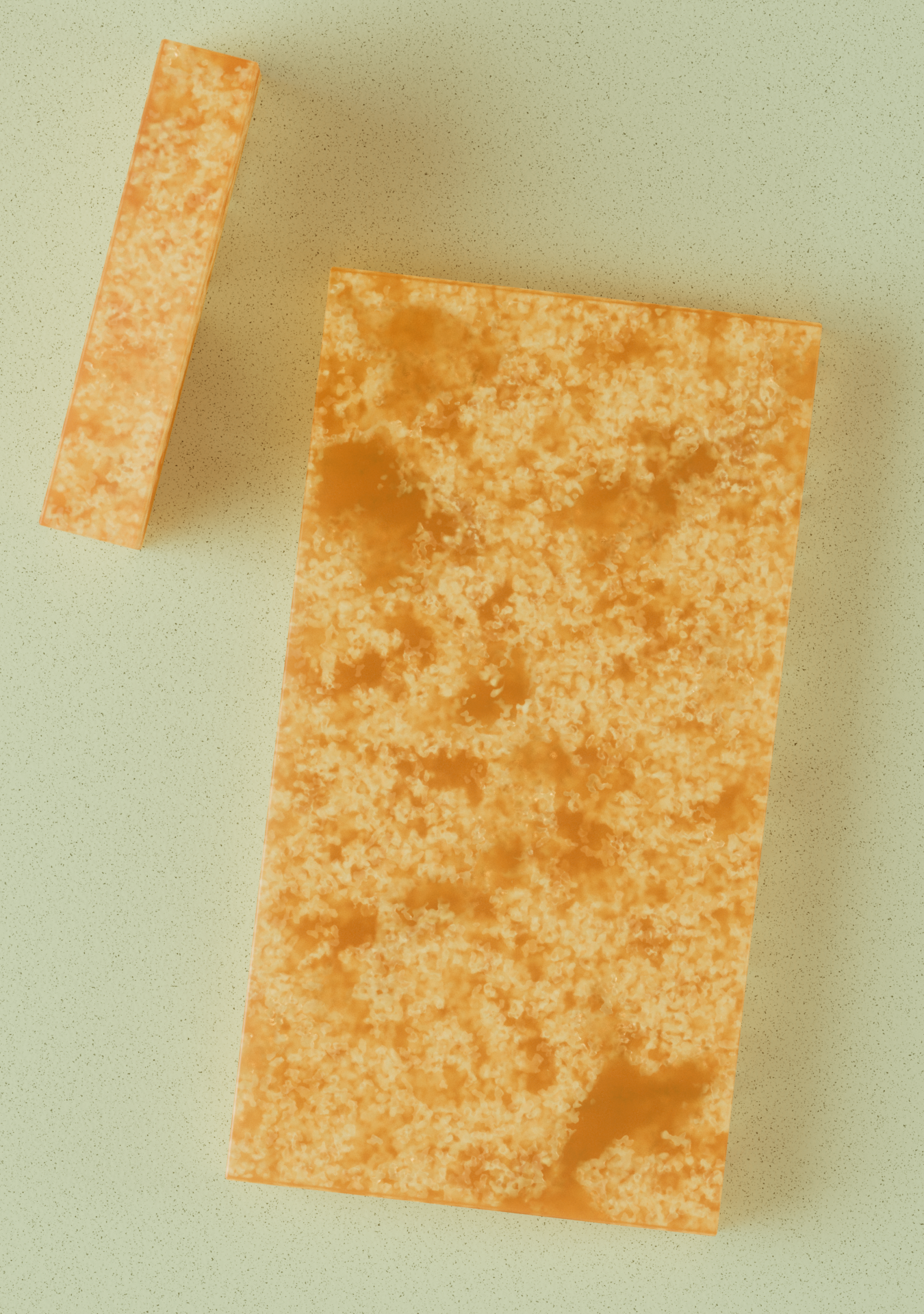 Lastly, the Manipulated Aluminium by American Supply features bold reflections caused by an aluminium core that's laminated to adhesive polyester. The material its iridescence core is enhanced by a reliëf and looks like its digital twin even when applied physically.
Altogether, the above materials thrive both in the physical world we're living in, and the digital reflection we are slowly moving towards. Interestingly, both physical materials and their digital twins share similar qualities while having their own distinct benefits. This overlap provides both guidance and comfort while transitioning into a brave new digital world.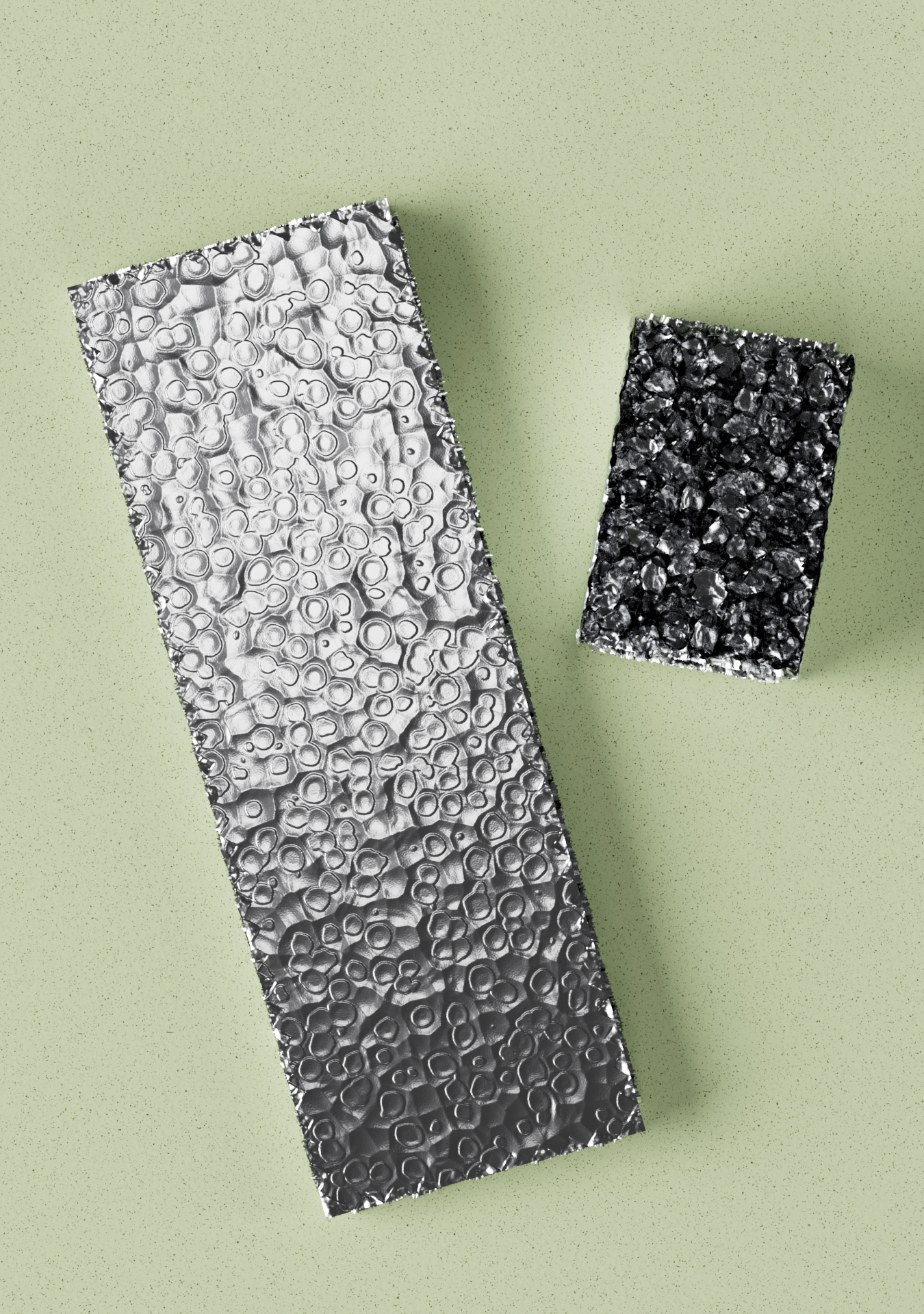 Materials by
Breathair - Indorama mobility group
aluminium foam - Cymat Technologies
Designpearls - Altfield
Multi Layer Glass - 3form
Translucent Stone - Societa Italiana Commerciale
Claf - JX Nippon ANCI SAS
Manipulated Aluminium - American Supply
Aluminium Decor - Almeco
Nowadays, we see a similar transition in which physical materials are increasingly translated into digital twins. `the digitalisation of our daily lives, the dominance of CGI (Computer Generated Images), and the imminent introduction of the Metaverse all fuel this movement. While a material's digital reflection becomes more important than its physical appearance, there's a special role for the ones that have a digital quality in real life.
Take Breathair® for example, a 3d structured cushion material from the Indorama mobility group. The innovative filament loop structure combines otherwordly aesthetics with exceptional durability, hygiene, and recyclability. Being mainly used as a cushioning material in both indoor and outdoor applications, its intriguing exploded looks demand a digital translation.
Another take on distorted transparency can be seen in the Multi Layer Glass material by 3form LLC. The process of making this material involves embedding organic or textile components in synthetic resin to create three-dimensional patterns. The seamless, easy to clean surfaces can be created without the central material losing its looks. The process can be applied in a wide variety of physical combinations, and an endless variety of digital ones.
Also combining natural looks with clean surfaces is the Translucent Stone material by Societa Italiana Commerciale S.R.L. Based on a natural quartz surface, the material is easy-to-clean and can be further processed with conventional stone processing techniques.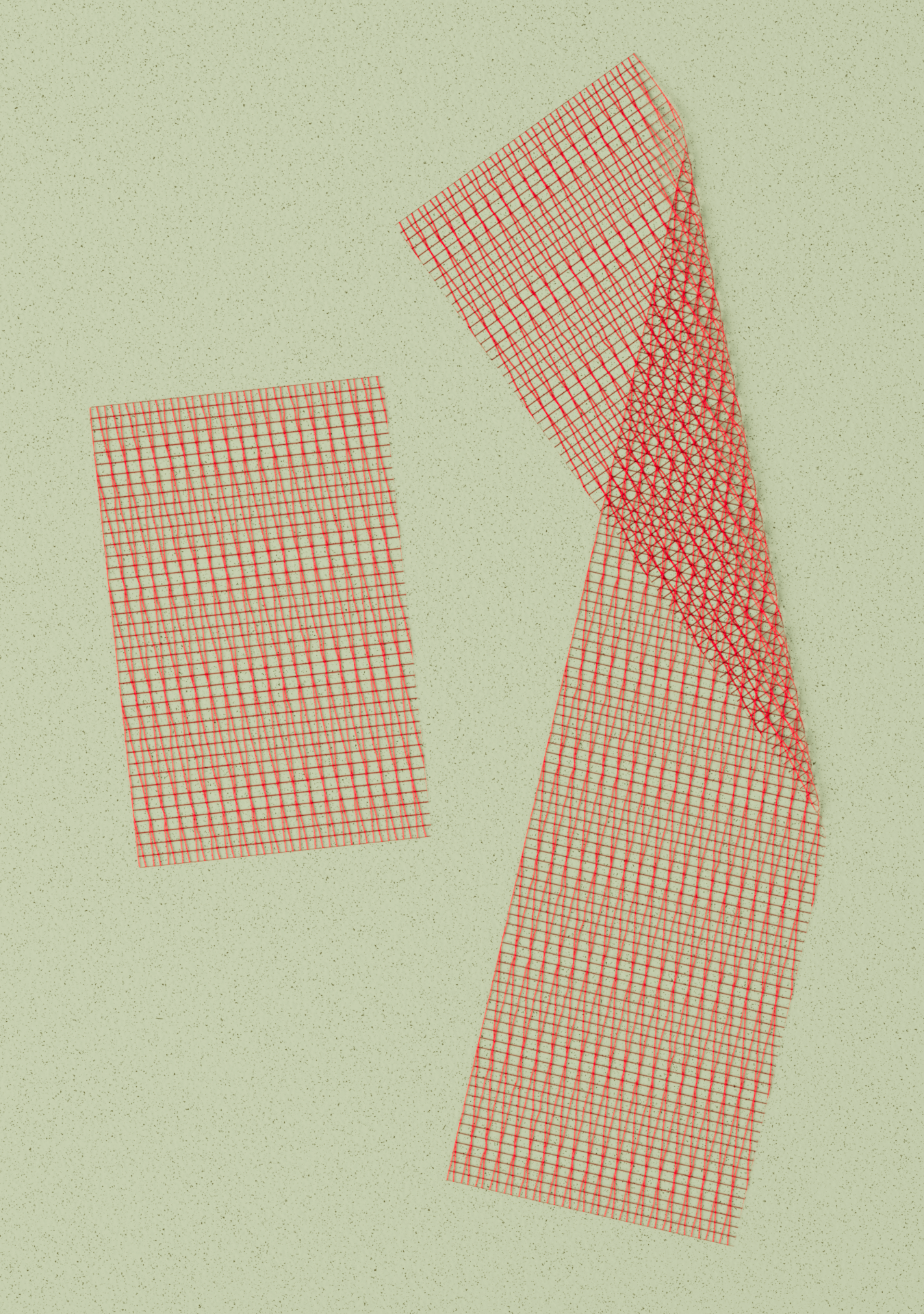 Another translucent material, that doesn't make use of a binder, is the Claf® fabric by JX Nippon ANCI SAS. The cross-laminated material features an open mesh structure with excellent dimensional stability. While qualifying as a reinforcing element in lightweight construction, the interplay of 2 grids holds an additional value in both the real and digital world.
Switching back to aluminium materials, the Aluminium Decor material by Almeco exist out of a wide range of coloured anodised aluminium surfaces intended for decorative use. The material is light, flexible and durable while its wide range of textures opens up a range of possibilities.