Take LED light as an example. LED lighting quietly replaced traditional bulbs, with customers hardly noticing besides lower energy bills. This transition aimed to smoothly integrate energy-saving tech into daily life. LEDs, with their greater brightness and compact size, emitted a sharp and unfamiliar light. Designers had to develop new skills and frameworks for this novel light source, ultimately giving birth to the modern language of lighting design.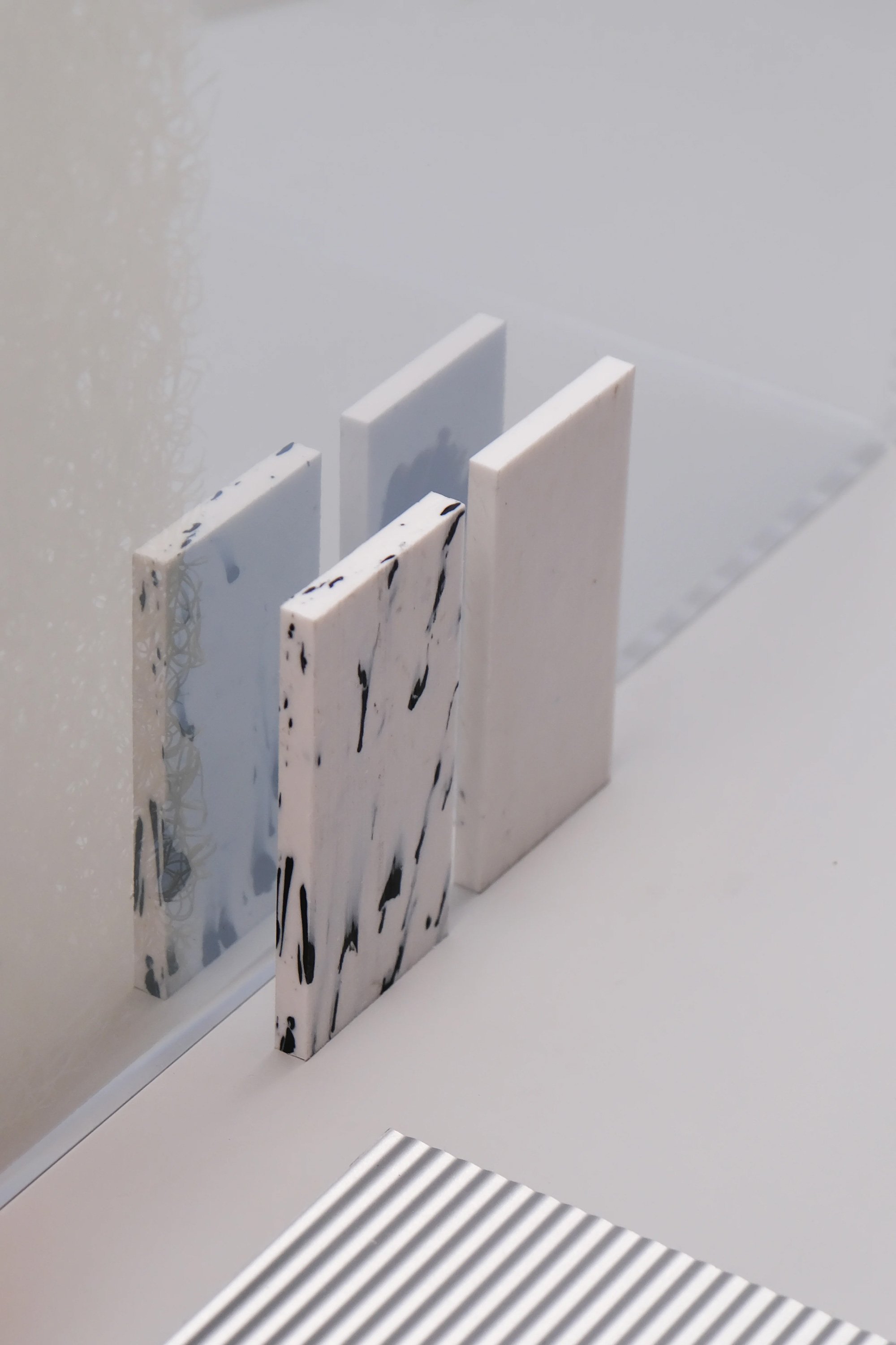 A third plastic material which takes a different approach is Green Cast® from PyraSied Xtreme Acrylic. Contrary to its 2 colleges, it features a clean look with none of recycled plastic its recognizable aesthetics in sight. This is due to acrylic being endlessly recyclable without ever losing its peculiarities. Therefore, you get the same high-quality cast acrylic sheets over and over again.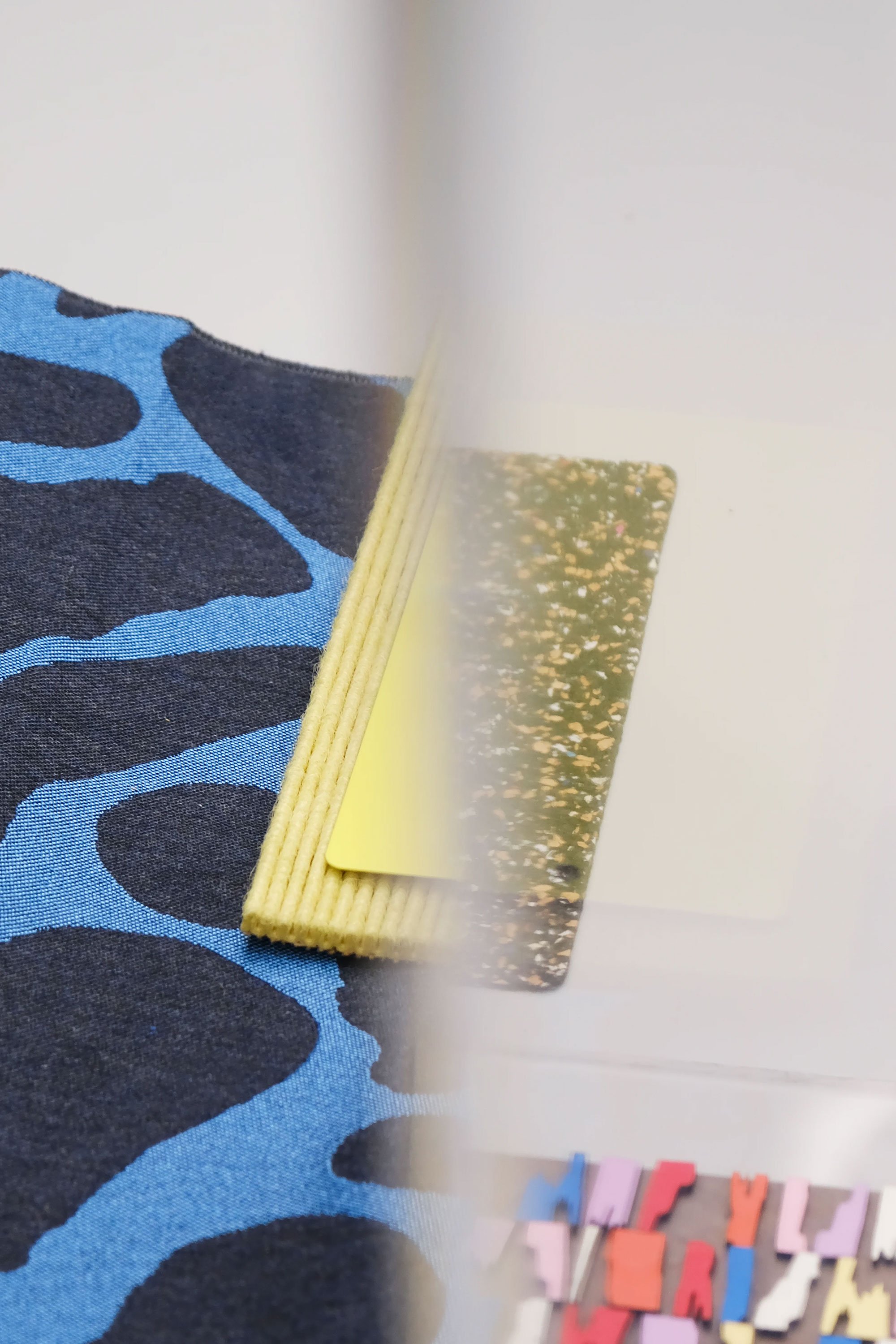 We end this range of varying recycled aesthetics on a different note with Natural cork from Amorim Cork Deutschland. This composite material combines cork with standard components for it to meet individual requirements and functional needs. The material is naturally water-repellent, so rot doesn't stand a chance. Although naturally sourced, the material looks like it's made up of particles, creating a visual similarity with some of the aforementioned materials.
Altogether, these materials show the different faces of the ecological material industry. An industry which has developed a distinct design language with a significant cultural impact. And although this language is being written in different ways, they all shape a new material landscape that aims to have a positive impact.
Moving on to soft materials, we find WYRON truecycled which is powered by Brain of Materials AG. Contrary to most recycled yarns, Wyron is made from unsorted textile waste, which is important since many textiles nowadays are made up of fibre blends. These blends are nearly impossible to sort and thus exclude a large volume of waste from being repurposed. As a recognizable feature, WYRON's yarn features subtle coloured spots which make the material stand out to whoever meets it up close.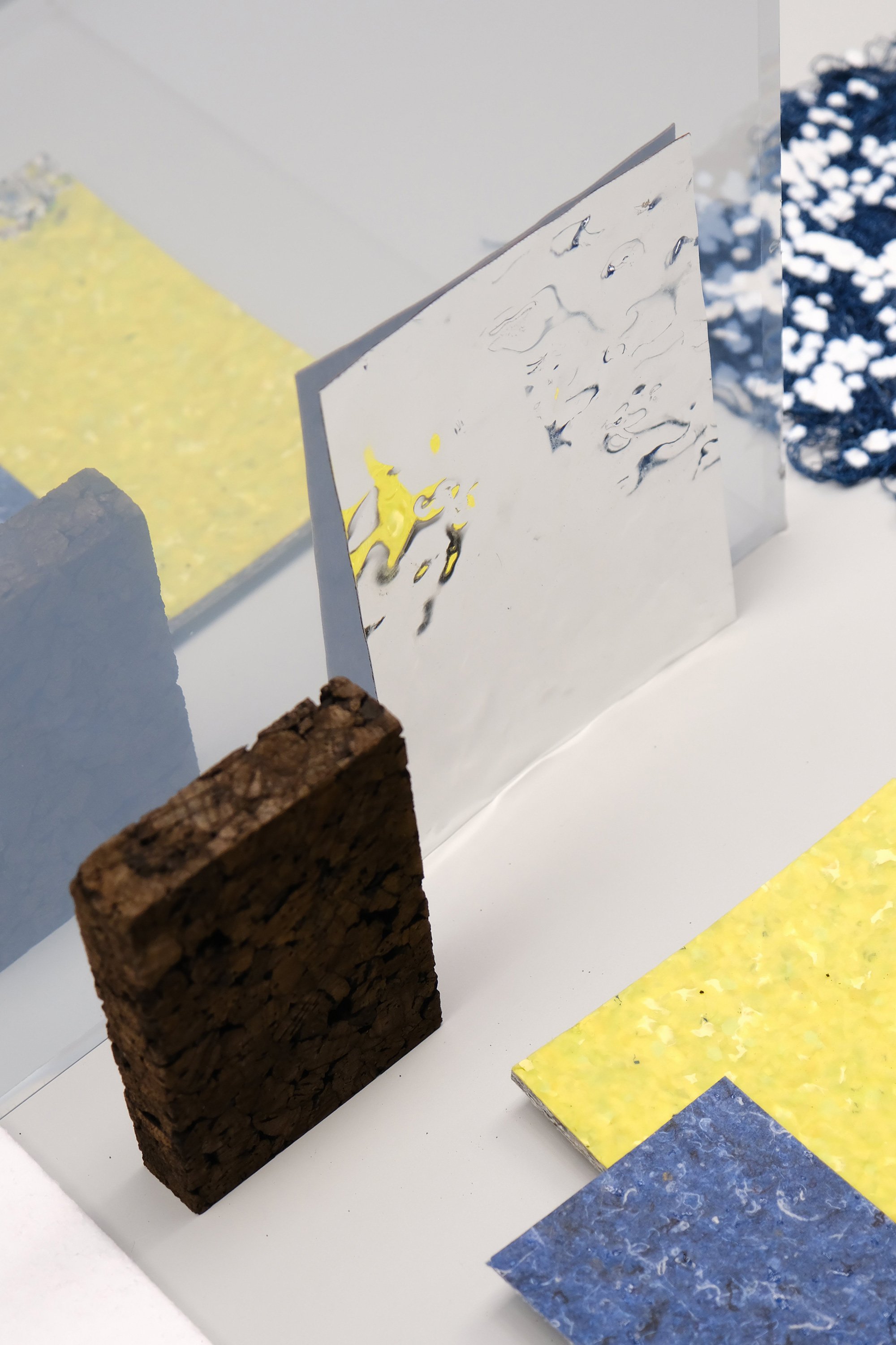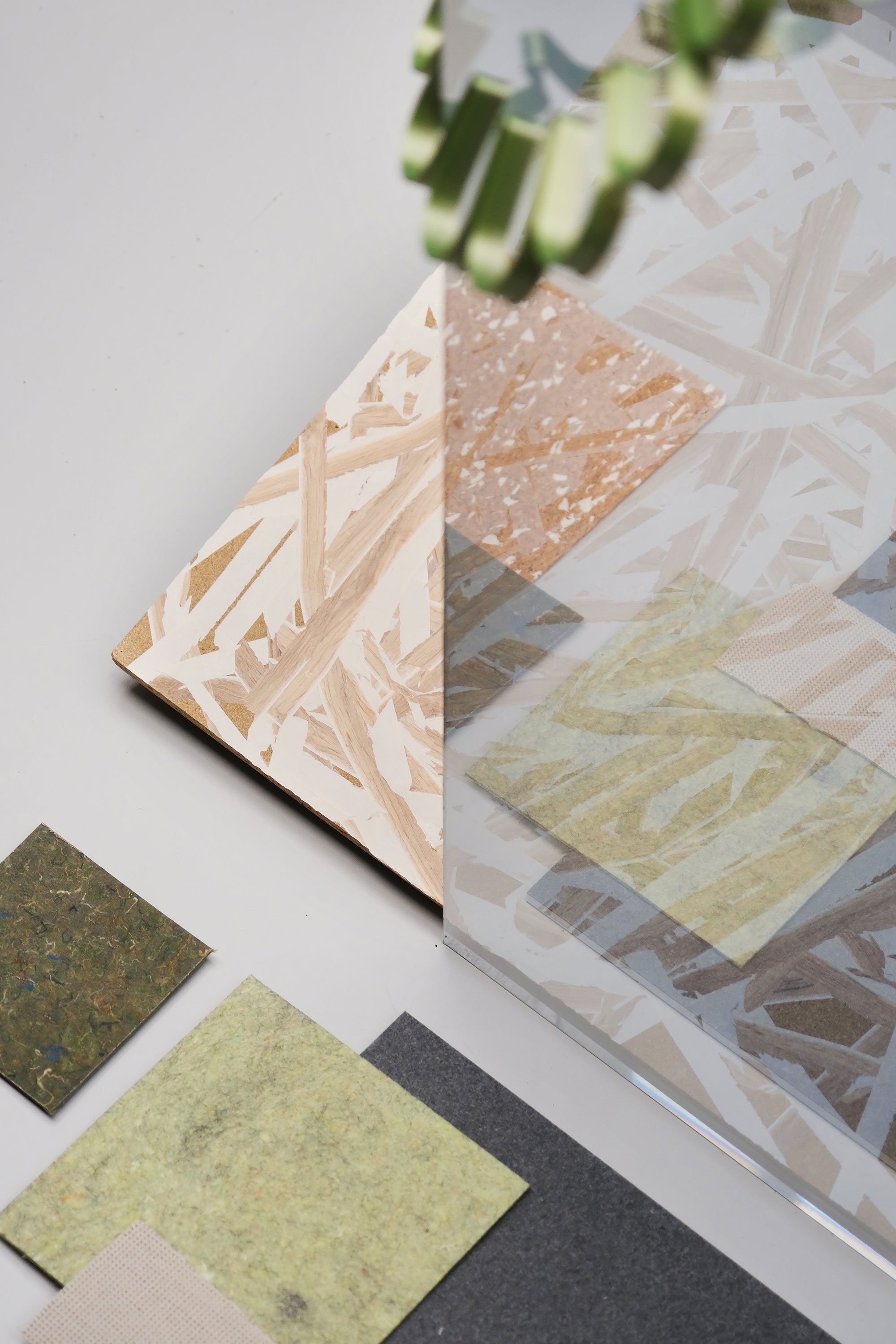 A similar transition can be observed with the arrival of sustainable materials. Once introduced, these materials were usually hidden behind a thin layer of virgin material. Optically, this gave the impression of materials as we've known them, but with a hidden recycled core. Over the years, designers have become comfortable with the appearance of recycled materials and their recognizable speckles and confetti-like colours. This comfort has been accelerated with the increased awareness around climate change, which has only made eco-alternatives
more popular. So much so that the aforementioned speckles and whimsical colours have also become a marketing tool that found its way beyond recycled materials, onto their virgin predecessors. Ultimately, the recognizable appearance of recycled materials has led to a shift that has become part of the design lexicon, and material manufacturers are still figuring out how to take a stance in this new material landscape.
Exemplary, the Blizzard transformed waste from Plasticiet features a recognizable speckled look made up of discarded buckets and post-production cut-offs. The material is soft to the touch and can be heat-bent into a multitude of shapes. Similar, but more abundant colours can be seen on the Chocolate factory transformed waste from the same manufacturer. Made up of old chocolate factory moulds, the material is scratch-resistant and surprisingly easy to work with.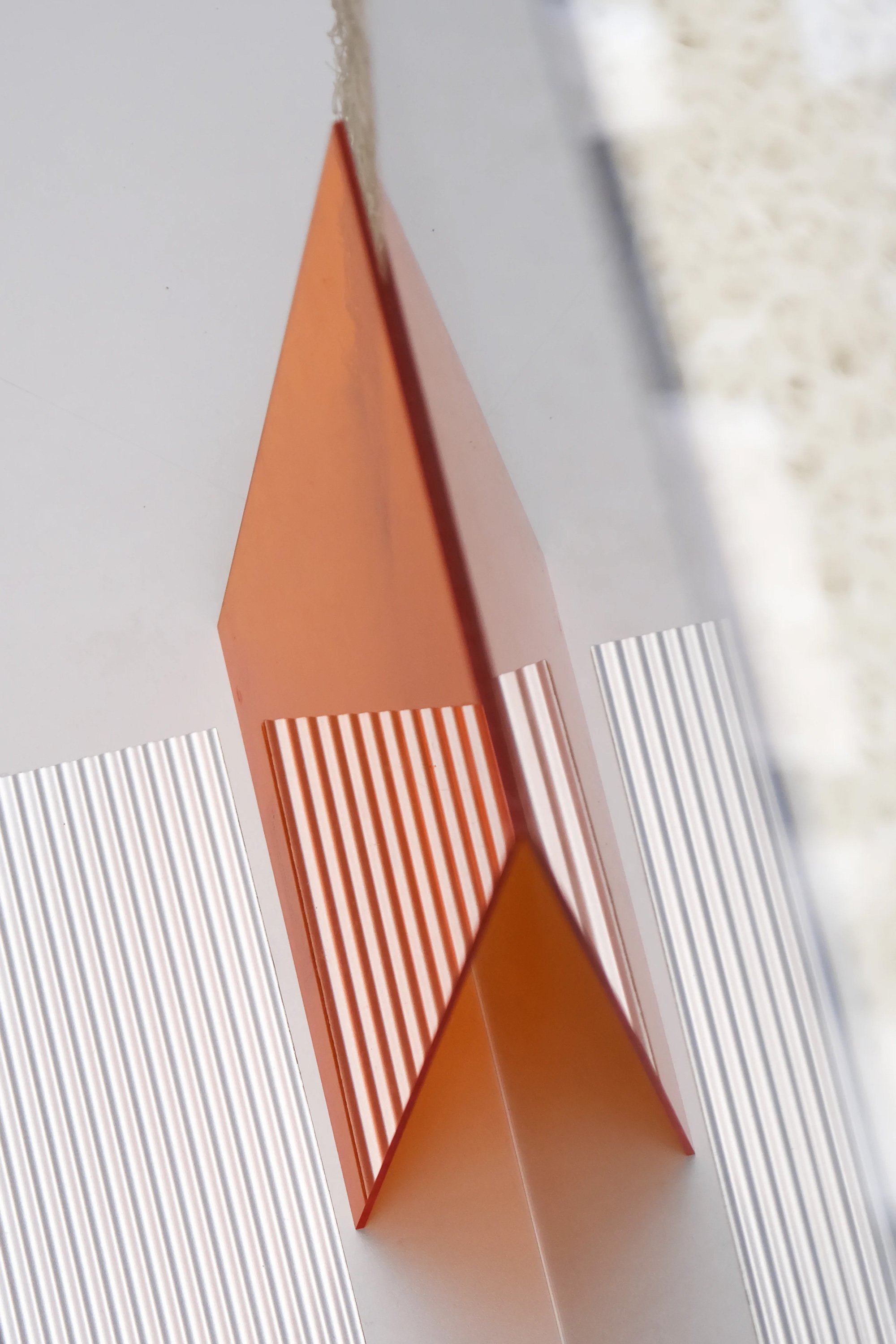 Another approach to sustainable textiles can be found in the Goat hair carpet from Tretford Weseler Teppich. Goat hair is a high-quality, natural and renewable raw material that absorbs moisture through its high proportion of cashmere that improves the indoor climate and regulates humidity. Additionally, the tiles are suitable for allergy sufferers in particular as they reduce fine dust and are removable after their lifespan.
Another take on textile flooring comes from Studio RENS which designed RE-VIVE together with Tarkett (DESSO). The design offers a new lease of life for Tarkett's carpet tiles through the colourful Re-vive treatment. Obsolete collections are given a dash of colour using a manual dyeing process with red pigments. It offers a fresh perspective in which discarded products are given a colourful new destination without the need for complex recycling processes.
MATERIALS
Blizzard transformed waste - Plasticiet
Chocolate factory transformed waste - Plasticiet
Green Cast® - PyraSied Xtreme Acrylic
WYRON truecycled - Brain of Materials
RE-VIVE - Studio RenS x Tarkett
Goat hair carpet - Tretford Weseler Teppich